Violence on the Streets of Budapest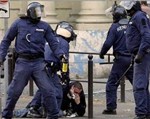 After a speech was leaked in which Hungarian Prime Minister Ferenc Gyurcsany admitted lying to win the general elections, demonstrations and rioting broke out September 18th on the streets of Budapest. On the fiftieth anniversary of the Revolution of 1956 police cordoned off the whole of Parliament Saquare and used extreme violence to disperse peaceful protesters, including over 2,000 teargas grenades, rubber bullets and mounted police cavalry. Following the link for our reports on recent events and how democracy is being undermined by reflexes more redolent of the totalitarian old-guard.
PDF Documents:
Violence on the Anniversary of 1956
The Future of Hungary and the Gyurcsány Government
Violence and Protest in Hungary
The Legacy of the Revolution of 1956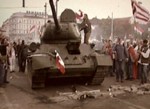 The Freedom Fight against Soviet and Communist oppression that took place on the streets of Budapest fifty years ago had repercussions on a global scale. Some commentators saw the uprising by young students and workers together as the beginning of the end for an ideology that would claim more lives than Nazism: without 1956 there would have been no 1990. ITDIS founding director Sebestyen Gorka has written about the relevance today of the aims of 1956 and how there is still work to be done in solidifying democracy in Central Europe. His first piece was written for Human Events, Washington's leading conservative daily and the second appearred in the Hungarian weekly Demokrata.
The Joint Special Operations University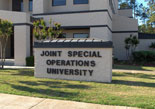 In March the Joint Special Operations Universityheld its first annual symposium: Countering Global Insurgency. The international roster of speakers included ITDIS Co-Director Sebestyén Gorka.
>> Download his paper entitled: Al Qaeda And Von Clausewitz Rediscovering The Art of War
The Economist and The UK-based Stockholm Network recently held its latest debate in the Westminster Fringe series, April 25th.
ITDIS director Sebestyén Gorka spoke in favour of the motion: President Putin's Energy Policy is a Disaster for Europe as well as Russia. Seconding the motion was Bob Amsterdam, counsel to Mikhail Khodorkovsky. Against the motion were Margot Light of the London School of Economics and Vlad Sobell from the Daiwa Institute of Research. The event took place at One Great George Street, Westminster, London and was chaired by Edward Lucas of The Economist.
ITDIS Director speaks to U.S. Army War College

On April 11th-13th the US Army War College held its seventeenth Annual Strategy Conference at the historic Carlisle Barracks in Pennsylvania. This year's conference brought together top national security strategists, senior military leaders, media, university faculty and the policy making community to consider, discuss, and debate topics concerning US national security strategy as related to counter-terrorism and to help frame vital questions that offer insights on "A Nation at War."ITDIS director, Sebestyén Gorka was part of the international panel and spoke to the question of: Are we really at war with Al Qaeda? His presentation will soon be ready online and be published by the USAWC Strategy Studies Institute.
>> A video of the panel discussions can be accessed at:
http://www.strategicstudiesinstitute.army.mil/conf/panels-media.cfm
NATO Workshop held in Budapest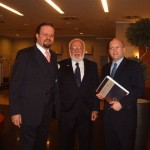 It is with great pleasure that the Institute for Transitional Democracy and International Security hosted its first NATO Advanced Research Workshop (ARW) March 30th – April 2nd:
>> REMAKING NATIONAL SECURITY:
Radical Approaches to Rethinking National and International Security Constructs in the Post-Westphalian Strategic Environment.
- Background
The centuries-old national security architecture NATO and Partner countries have inherited is out of step with the new threats and geostrategic realities. Radical, flexible, imaginative and, above all, international solutions are required, ones that must be informed by an iconoclastic interdisciplinary approach that goes beyond existing methodologies and theories.
In an effort to assist NATO's internal reform process, the Alliance's Science Programme is supporting this unconventional look at how governments and academia should newly approach the question of national security. The overall goal is help make NATO more capable of dealing with the post-Cold War and post-September 11th threats.
A small group of leading theoreticians and policy practitioners from NATO, Partner and Mediterranean Dialogue countries were asked to participate in this closed roundtable event. The goal was to provide initial responses to the issues below and to establish a durable network of experts which could meet regularly to provide concrete policy recommendations to be considered by NATO and its individual member states and partners.
- Our Aims
- to map the inheritance in national and international security and defence structures that the Westphalian nation-state system has created
- to ascertain the weaknesses of this inheritance with regard to new (and renewed) non-traditional, transnational threats
- to bring together specialists who rarely meet: experts in national identity, international relations, philosophy and terrorism, to recommend radical but realistic reform measures that will make national and Alliance security structures better suited to the post-Westphalian threat environment
- to encourage a new trend in brain-storming-centred, policy-product orientated events that are of greater profit than traditional plenary conference events
Speakers included Dr. Fred Kagan of the American Enterprise Institute, Dr. Amy Smithson of the CSIS, Prof. Stephen Sloan, of the University of Central Florida, Dr. Andrew Michta of the Marshall Center and Chris Donnelly of the UK Defence Academy. All the papers will soon be available on-line.
ITDIS Director Sebestyén Gorka at the UCF event with (from left) Magnus Ranstorp of the Swedish Defence Academy, host Prof. Stephen Sloan and Brian Jenkins, special adviser to the President of the RAND Corporation.
ITDIS was recently co-sponsor of a conference with the University of Central Florida, Orlando, and St. Andrews University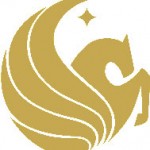 The event, entitled Global Assessment of Terrorism: Perspectives from Current and Future Leaders on Policy, Doctrine and Operational Implications was held in Orlando November 2nd – 5th , 2005.
>> The Purpose of the Conference
Although terrorism is as old as recorded history, contemporary terrorism emerged with the skyjacking and hostage-taking in the 1960s and attracted global attention with the Munich massacre of 1972. The incidents and campaigns of terrorism caught governments unaware and unprepared to counter a threat that one observer astutely called "A New Mode of Conflict." Concomitantly, with the exception of various individual pioneering studies, there was not the systematic study of terrorism as a field for academic inquiry and policy evaluation. The events of 9/11 have accelerated the need for far more systematic studies of terrorism, evaluation of counterterrorism policies, refinement on the operational art and an assessment of present and future trends. There has been a proliferation of programs directed at identifying and countering new terrorist threats, but a major gap remains in understanding the causes, dynamics and outcomes of terrorism.
There has been limited integration of knowledge between the first generation of scholars, law enforcement and military personnel, members of intelligence organizations, and representatives of the corporate sector – who have been involved in studying, preventing, preempting and responding to immediate, short and long-term threats – and a new generation of counterterrorist specialists that is now in mid-level positions and which will be the future leadership in the protracted "war" against terrorism. This conference provided a setting and program to facilitate a systematic discussion among present and future leaders in what is increasingly becoming a counterterrorism community. The conference included a candid exchange of views related to trends in terrorism based on the experience of established authorities in the community and the new leadership that is emerging in the academic, bureaucratic, operational and policy arenas.
The Common Foreign and Security Policy: Implications for the United States and Europe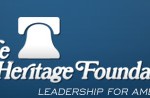 ITDIS is proud to annouce its first event held in Washington jointly with the Heritage Foundation
The one day event held Tuesday, November 1, 2005 at the Heritage Foundation, brought together leaders from Europe and the US to discuss the possible negative ramifications of the European Union's Common Foreign and Security Policy (CFSP) upon national interests on both sides of the Atlantic and upon the transatlantic relationship and to produce policy recommendations to avoid such effects.
Speakers included: Ian Brzezinski, Former Deputy Assistant Secretary of Defense for NATO and European Policy; Katharine Cornell Gorka, ITDIS, John C. Hulsman, Senior Research Fellow European Affairs, The Heritage Foundation, Frank Babetski ,Senior Analyst Office of Russian and European Analysis, CIA, and Miroslav Wlachovsky, Deputy Chief of Mission, Embassy of the Slovak Republic to the United States.
>> Katharine Gorka, ITDIS Co-Director, has written a piece summarising the core arguments. It is entitled: "United Europe: Challenging the Defence of Democarcy"